4400/TX Automatic Benchtop Rotary Shuttle Powder Filler
Features:



Fills Bags or Bottles

Eliminates Costly Hand Weighing

Single Fill Chamber is Easy to Calibrate

Vacuum/Volumetric Dosing Principle

Handles Free-Flowing or Sticky Materials

Built-In Product Agitation

Dose Range: Approx. .05 gm. – 75 gm.

Repeat Accuracy: Approx. ±1%

Fill Rate: 25 Fills/Min. (Max.)

Options Include:


Hopper Stirring Mechanism

Smaller Volume Hopper

Hopper Auto Refill

Dose Funnel

Hand Filling Guns

Fill Counter



Please click "Play" to watch our video on the 4400/TX
Contact Us For More Information

Documents
Color Brochure
Choosing the correct filling gun
Dimensions, Weights and Electrical Specifications
Shipping Dimensions:
Console: Foam Lined Carton: 10.5"X 16.5"X 18.5" (41.9 X 26.7 X 47.0 Cm.)
Shuttle Mechanism: Wooden Crate: 15.5" X 27.5"X 31.5" (39.4 X 69.9 X 80.0 Cm.)
Shipping Weights:
115 V. Console: 26 Lbs. (11.8 Kilos)
220 V. Console: 38 Lbs. (17.2 Kilos)
115 V. Shuttle Mech.: 150 Lbs. (68 Kilos)
220 V. Shuttle Mech.: 165 Lbs. (75 Kilos)
Electrical Data:
Console: 2.5 Amps.@ 115 V. -50/60 Hz. (1.3 Amps.@220 V. -50/60 Hz.)
Shuttle Mechanism: 5.0 Amps.@ 115 V. -50/60 Hz. (2.5 Amps.@ 220 V. -50/60 Hz.)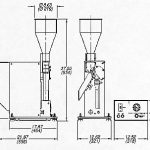 How It Works

1. At the start of the fill cycle, the shuttle is in its home position with the mouth of the fill chamber facing down. A metered dose of powder, already picked up on the prior cycle, is held in the chamber ready to be dispensed.
2. Placing a container on the container platform, or holding a pouch beneath the fill chamber, actuates a microswitch to start the fill cycle.

2a. Alternate Pouch Fill..
3. Powder being held in the shuttle's fill chamber is immediately dosed into the container, then, after only the slightest hesitation…
4. The shuttle automatically is driven up to pick up a fresh charge of powder for the next cycle. The shuttle dwells in this position momentarily to ensure a full dose, then returns back to its home position to await the signal to commence the next cycle.
Free Laboratory Evaluation
Kinematics & Controls Corporation invites all perspective and/or current customers to submit one or more product samples to us for a free performance evaluation in our filling equipment lab.
For an evaluation of your product with our Model 4400/TX filler we require:
A sufficient quantity of product to perform the evaluation. Minimum amount should be approximately one liter. For small fills a minimum of one half liter may be sufficient.
One or two sample containers of each type used, or drawings of them showing the overall dimensions and mouth opening.
Material Safety Data Sheets for each product submitted for evaluation.
Warranty
All equipment described herein is warranted to the original purchaser for thirteen months from the date of purchase to be free from defects in materials and workmanship, but not against damages caused by misuse, abrasion, corrosion, negligence, accident, faulty installation, or by dispensing material incompatible with the equipment. When the equipment is installed and operated in accordance with factory recommendations and instructions, Kinematics & Controls Corporation will repair or replace free of charge, any part of the equipment found to be defective, upon prepaid return of the part to the factory during the warranty period. In no event shall any liability or obligation of Kinematics arising from this warranty exceed the purchase price of the equipment. All other warranties, whether expressed, implied or statutory such as warranties of merchantability or fitness for a particular purpose, are hereby excluded and disclaimed to the extent that they exceed the warranties expressly granted in this clause. In no event shall Kinematics be liable for consequential or incidental damages.